Had anyone tried to tell me that I would one day run a 10k, get blisters on my pinkie toes so bad that I would spend an entire afternoon limping around like an arthritic senior citizen & that I'd like it… I'd have told them to put the pipe down and spend a good week or so sobering up.

But a few weeks ago, all of those things actually took place. And I felt AMAZING. I'm not kidding. I felt like a freakin' Super Hero. I didn't run fast. I didn't even come close (1 hour & 24 minutes, to be exact). But I did, in fact, run the entirety of the route. I didn't stop to walk and I enjoyed every single, sweaty moment of it.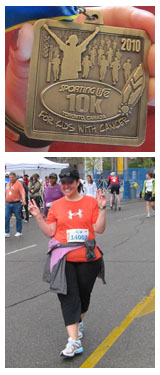 Despite the agonizingly early start to my day (an alarm sounding at 5 am is unnecessary at the best of times… nevermind a Sunday morning) and the anxiety-inducing weather forecast (thunderstorms were predicted – NOT what a girl who's already got blisters from training wants to hear; wet feet are not a runner's best friend), the entire experience could not have gone more swimmingly. Well, okay, I could have scored a 48 minute finish. But let's be realistic.

I can't imagine a better route for a first time 10Ker than the Sporting Life 10K in Toronto. With the exception of a few hundred metres to the contrary, the entire 10 kilometers is DOWNHILL. How brilliant is that? And, in addition to the scores of good-natured folks who line the distance simply to cheer you on, there were live bands positioned along the way as well. And hearing a band break into a Primus song as you're rounding into the final few kilometers, incidentally, is one HECK of a rallying cry – Adrenalin Ahoy!

Would I recommend this distraction to a friend? Without question. Would I do it again? Absolutely. In fact, I have another 10k scheduled for the weekend before I say my I Dos. Which reminds me: I must invest in some blister-preventing socks so I don't end up having to hobble down the aisle.

Tags: amazing, awesomeness, blisters, downhill, live music, Primus, Sporting Life 10K